From the divine beaches of Lombok Island to the clear waters of the Gulf of Thailand, this round-up of modern and contemporary villa rentals in Asia is the dose of luxury design inspiration you need today. Take your next beach vacation to new heights in those incredible villas, with some of them, winning awards for best architecture.
Spectacular beachfront view, private infinity pool, bold design features and the best luxury villas make the perfect combination for your next holiday to escape the reality and be inspired by the scenery. Impress your family and friends and live the luxurious life you always desired.
Our private villas come with excellent customized service, from the villa manager to the butler, you will be amazed how you will be treated and they will go beyond your expectations.
To help you choose your next home escape, we have selected 10 splendid contemporary villas for your exciting vacation:
1. VILLA SAPI (5 Bedrooms) ~ Location: Lombok Island - Indonesia
Rugged and adventurous, the Indonesian island of Lombok is growing in popularity for bold travelers. After spending time discovering Lombok, relax in this luxurious beachfront villa, where nature meets elegance; designed by Canadian architect, David Lombardi. Feeling sporty? Just one kilometer from the villa is the Lombok Golf Kosaido Country Club, an 18-hole championship course or have a game in your private tennis court. The private movie theater and the peaceful spa room in this villa gives a new meaning to relaxation.
✈ For more Information & Booking: Villa Sapi
2. THE INIALA PENTHOUSE (1 Bedroom) ~ Location: Natai Beach, Phuket - Thailand
This futuristic one bedroom penthouse will make you speechless and stunned just by looking at it. You will never sleep the same way in this sumptuous white leather floating bed attached to the ceiling. Designer Graham Lamb has created a desert like floor inside the luxury villa, giving you the sensation of walking on sands. Perfectly designed for a romantic getaway with your dear one; watching the sunset glittering over the Andaman Sea.
✈ For more Information & Booking: The Iniala Penthouse
3. TALALLA HOUSE (7 Bedrooms) ~ Location: Dikwella, South Coast - Sri Lanka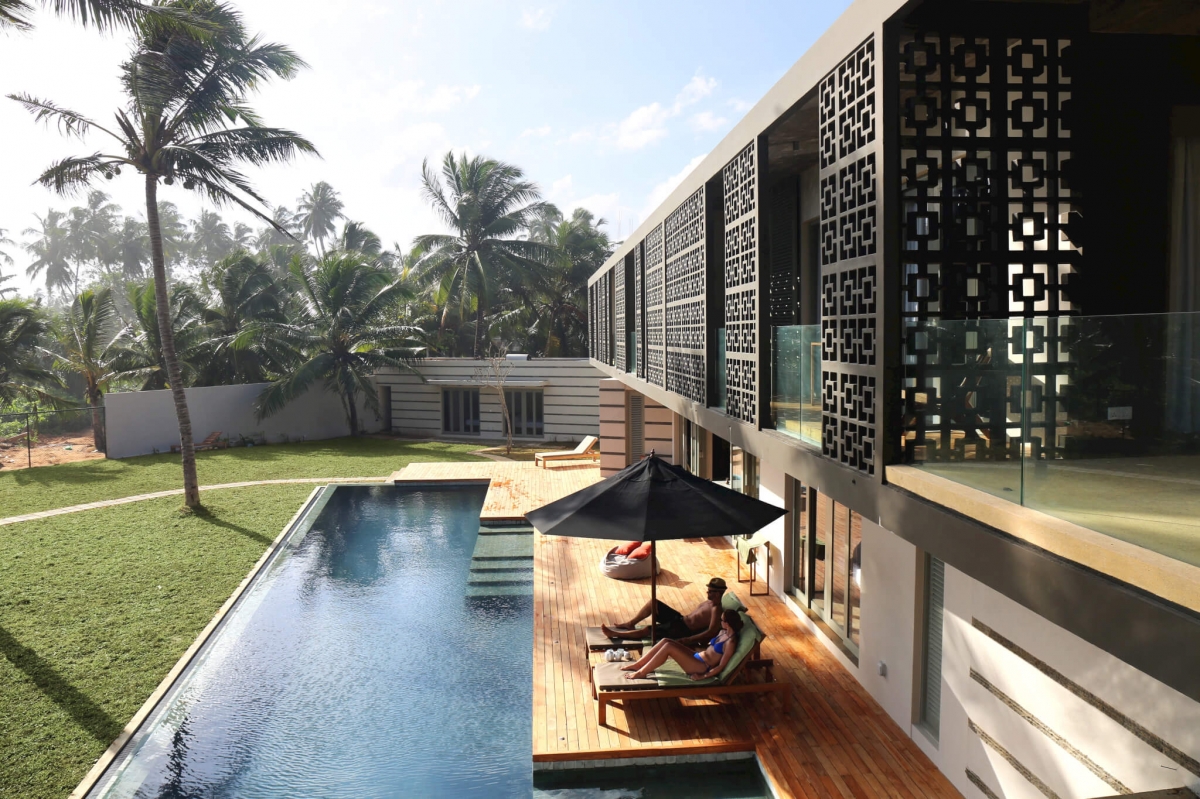 The South Coast of Sri Lanka is one of the hottest destination in Asia for its deserted beaches, tropical surrounds and the luxury villas rental. Melted into the South Coast's beaches, Tallala House offers a spacious 7 bedrooms holiday home with its private garden and yoga studio. The ideal place to heal your body and mind, looking over the heavenly view of Talalla Beach. The professional and dedicated staff understand individual expectations and preferences and they will make sure to give you a lifetime memory on your family reunion or special event.
✈ For more Information & Booking: Talalla House
4. SAVA VILLA AMARELO (6 Bedrooms) ~ Location: Natai Beach, Phuket - Thailand
One of the finest home in Phuket, Sava Villa Amarelo is a 6 bedrooms luxury estate which sit right next to the white sands of beautiful Natai Beach. Arranged in a U-shape around the central pool, Villa Amarelo is designed to give you this warm and cozy feeling. Waking up in front of the sea is possible from the two deluxe master bedrooms, then you are a few step away to feel paradise underneath your feet. A modern open space flows from one area to another fluidly, delivers ample space for hosting a romantic tropical wedding or a special event.
✈ For more Information & Booking: Sava Villa Amarelo
5. VILLA MOONSHADOW (4 Bedrooms) ~ Location: Chaweng, Koh Samui - Thailand
Fall in love with this spectacular 4 bedrooms award winning villas in the tropical island of Koh Samui. The architect, Mr. Bodin Sritrakul, has created a landmark on the island which received the prestigious "Thailand Property Award" for Best Architectural Design. The villa itself is truly breathtaking and has everything you need. The villa comprises 3 pavilions which allows the guests the privacy you seek on your vacation. The modern property embraces open-concept living, extending the living area onto the crystal clear water of Chaweng Beach; and with its floor-to-ceiling windows, enjoy the extraordinary panoramic seaview.
✈ For more Information & Booking: Villa Moonshadow
6. VILLA TANTANGAN (3 Bedrooms) ~ Location: Seseh Beach, Bali - Indonesia
This luxury beachfront villa is located on the edge of Nyanyi Beach, easily reached through a small, typical Balinese gate at the bottom of the garden. Blended into the nature, the living and dining area is an open plan giving the best views of the sea. It is the most beautiful villa combining both modern and traditional decor in a stunning setting. It is surrounded by surprises. To the East, the land is bordered by the Tantangan Wildlife River and to the North, you can notice the majestic volcanoes of Central Bali. Relax in this gorgeous scenery and be spoiled by the professional Balinese Staff.
✈ For more Information & Booking: Villa Tantangan
7. WALATTA HOUSE (3 Bedrooms) ~ Location: Tangalle, South Coast - Sri Lanka
The Walatta House is one of the most inimitable villas on Sri Lanka's South Coast. The idea was to maximize contact with nature, landscapes and views, which came from Malaysian-based British architect, John Bulcock. The house design really makes you feel part of the landscape and was designed to save energy by encouraging minimum air-con use while flooding the interior with natural light. Tasteful and minimalist, The Walatta House uses natural tropical settings to accentuate its concept, sustainability and wildlife. Speaking about concept, the villa is covered by a green-planted roof which completely unified the house and the landscape.
✈ For more Information & Booking: Walatta House
8. VILLA ANAVAYA (6 Bedrooms) ~ Location: Choeng Mon, Koh Samui - Thailand
Villa Anavaya is a 6 bedrooms luxury villa located in the quiet north-eastern coastline of Koh Samui. The best word to describe Villa Anavaya? Epic. From the location (close to the soft and quiet sands of Choeng Mon Beach and not far from the busy downtown of Chaweng) to the design (clean and functional layouts, bold design features, and panoramic views), this property is nothing short of extraordinary. Take advantage of amenities like the private cinema with 3D glasses, the L-shape salt water infinity pool, the game room with a ping-pong table; while the private chef is awaiting you to taste his delicious menu.
✈ For more Information & Booking: Villa Anavaya
9. VILLA SUAMI (5 Bedrooms) ~ Location: Seseh Beach, Bali - Indonesia
Serenity and calmness come to your mind when entering Villa Suami. It is placed among the world's most amazing destinations villas. Celebrating a wedding or a special event? Villa Suami will not disappoint you with its living open space as guests overlook the T-shaped infinity swimming pool with sunbeds. Originally designed by a world-renowned architect as his private home, this incredible 5 bedrooms villa boasts breathtaking décor, salty sea breeze and a flood of natural light. This luxury rental villa is the perfect getaway for family reunion as the second swimming pool leads to an expansive lawn for kids.
✈ For more Information & Booking: Villa Suami
10. VILLA KARPE DIEM (4 Bedrooms) ~ Location: Chaweng, Koh Samui - Thailand
Experience Karpe Diem Boutique Villa, this picture-perfect 4 bedrooms holiday destination is truly the unique retreat you are looking for. Introducing not one, but two infinity-edged swimming pools, indulge yourself with a fresh cocktail and discover the beauty of Koh Samui. We're not exaggerating when we say that Villa Karpe Diem could be pulled from the pages of a design magazine. The concept seamlessly connects open living spaces to the splendid ocean view, and every detail - from the swim-up bar to the clean architectural lines - plays up the beauty of the villa. A modern design featuring a minimal amount of furnishings and accents.
✈ For more Information & Booking: Villa Karpe Diem