Renting a luxury villa for your wedding is a great way to make sure that the most wonderful day of your life is spent in a unique and perfect location. Holding your wedding ceremony in a private villa in Phuket, Bali or even Koh Samui will be an exceptional experience which will be looked back on with fondness.
The exchanging of rings and of vows on a dream beach under coconut palms, or beside your infinity pool surrounded by your friends and relatives, will remain forever engraved in your memories. Whether you're inviting a small group or lots of friends, renting a luxury villa in Asia will allow you to organise your wedding exactly to your liking. A secret and intimate wedding in Thailand, Indonesia or even Sri Lanka. A lively wedding party held in grand style. A marriage ceremony based on your own culture and rites. Or perhaps a fairy tale wedding, the way you'd always dreamt it on the other side of the world. There are staff at our villas who are authorised to perform these ceremonies, and they will welcome you in to satisfy all your demands and wishes for this special occasion.
Our selection of wedding friendly rental properties is chosen according to very specific criteria. We choose villas with enough space to host your guests. Our range features private houses which are close to a superb location or the beach, and where the staff have experience in hosting these kinds of ceremonies. We recommend luxury private rental properties which are suitable for a powerful sound system and which can accommodate a DJ. Before making a reservation, we will work out the details of your ceremony to help you make the best choice. Upon request, we can also make recommendations for wedding specialists on site such as wedding planners, caterers, DJs, organisers or decorators.
We have selected for this occasion our Preferred Wedding Venues in Private Luxury Villas in Thailand, Indonesia and Sri Lanka.
1. PANDAWA CLIFF ESTATE (up to 21 Bedrooms) ~ Location: The Bukit, Bali - Indonesia
With its dramatic and romantic cliff-top setting overlooking the Indian Ocean, its wide lawns, large purpose-built decked garden areas and superb guest facilities, Pandawa Cliff Estate is a dream wedding and event venue. When all four villas are rented together, the estate offers a total of 21 double bedrooms, and can accommodate up to 42 adults guests, plus numerous extra beds for children. The Pala boasts a unique, stone amphitheatre where guests can be entertained with a traditional dance or musical performance, and its garden links through to those of neighboring Villa Rose and Markisa, allowing separate areas for cocktails, dining and dancing for up to 400 guests.
✈ For more Information & Booking: Pandawa Cliff Estate ~ Luxury Villa The Pala ~ Luxury Villa Markisa ~ Luxury Villa Rose ~ Luxury Villa Marie
2. JIVANA VILLAS (up to 19 Bedrooms) ~ Location: Natai Beach, Phuket - Thailand
Situated on a long stretch of secluded beach overlooking the Andaman Sea, Jivana Villas are unique in that they are one of the very few truly beach fronted villas available in Phuket for private rental. Enjoy the luxury and indulgence of getting married in your own luxury beachfront villa creating a truly memorable experience for everyone involved.
✈ For more Information & Booking: Luxury Villa Ananda ~ Luxury Villa Shanti ~ Luxury Villa Jia
3. THE SANCTUARY (9 Bedrooms) ~ Location: Canggu, Bali - Indonesia
Villa The Sanctuary Bali is in demand for all kinds of events: from formal dinners for 20 people to special celebrations for more than 200 guests. As a romantic wedding venue, Villa The Sanctuary Bali in a class of its own: couples from all over the world have chosen to start married life in this stunning riverside setting, exchanging vows on the lawn while nature breaths a new beginning.
✈ For more Information & Booking: Luxury Villa The Sanctuary
4. VILLA UPNI DUNIYA (9 Bedrooms) ~ Location: Bang Rak, Koh Samui - Thailand
Upni Duniya is a perfect location for special occasions, weddings, milestone birthdays and family gatherings. Up to 18 guests can stay in the private suites and a party of up to 120 people can enjoy celebrations on the idyllic white sandy beach in front of the Villa. Upni Duniya can turn your dreams of an idyllic beach wedding into reality. Toast your union on the white sand with a backdrop of swaying palm trees and the scent of frangipani trees with a glass of champagne and have a truly magical day to remember.
✈ For more Information & Booking: Luxury Villa Upni Duniya
5. TALALLA HOUSE (7 Bedrooms) ~ Location: Talalla Beach (Tangalle) - Sri Lanka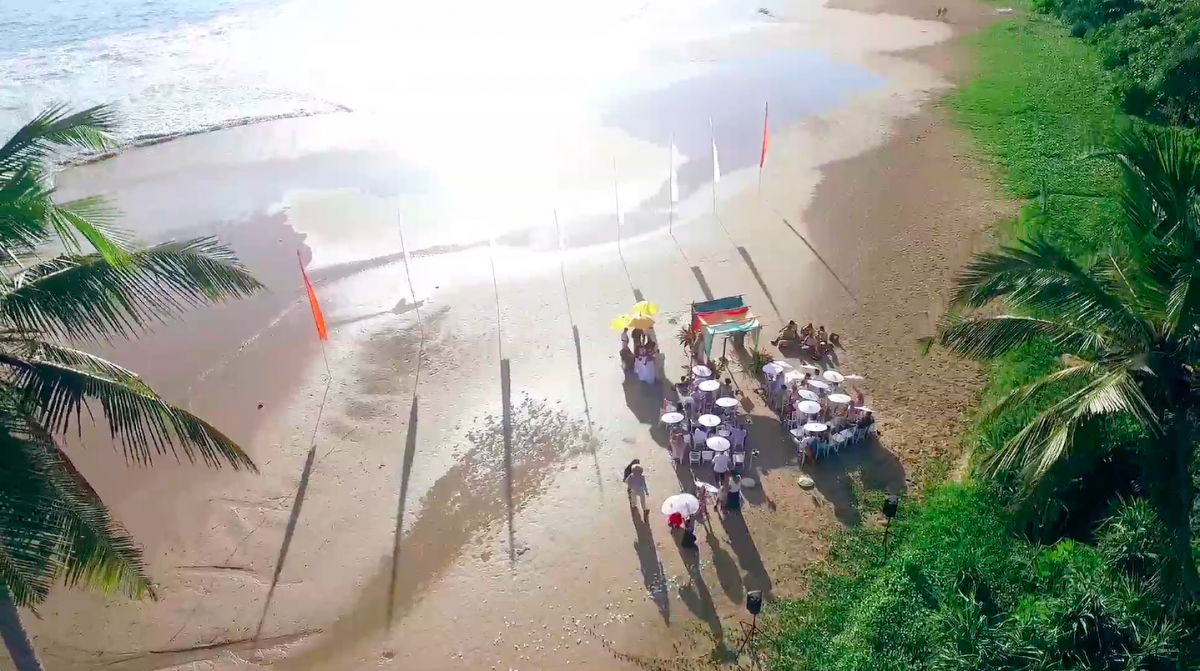 Perched on a quiet, palm-lined beach, Talalla House is in a class of its own. The intimacy of a luxury villa, exclusively for your event, will provide a lifetime of memories. Facing west, with sunsets over the bay – private beach access, luxury bedrooms, a spacious garden, and a green roof with unobstructed ocean views – it's a perfect location for weddings and events. From formal dinners to special celebrations for up to 100 guests, the 20 meter infinity pool, deck, living area, and fully equipped professional kitchen make Talalla House ready for your big day.
✈ For more Information & Booking: Luxury Villa Talalla House
♥ Check Out our Selection of Stunning Villa Rentals in Asia for a Dream Wedding ♥