Holiday villas with tennis courts are always in popular demand. From Bali to Phuket, take a look at our Top 10 stunning villas with a Tennis Court.
Looking to put some work into your backhand swing or just to get fit during the holidays? You won't need to drive hours to find a tennis court...but just to step into the backyard of your luxury villa. Some of our villas are equipped with private Tennis Court, Fitness Gym or Spa room. You can even get a private Yoga session, while your family and friends are enjoying some splash at the infinity pool. What a better way to come back from the holiday feeling fresh and healthy!
Renting a villa is often easier if you're a family or a group of friends. The convenience you get is incomparable to any other accommodations. Imagine all that private space, numerous facilities for adults and kids and personal staff (a cook, driver, personal assistant and more) to make your stay at ease. Everyone looks forward to their next holiday, Heaven Rentals specialists will guide you towards the most suited quality villa rental in South East Asia.
See below our TOP 10 collection of Luxury Villas with Tennis Court. Families and tennis-lovers can enjoy excellent facilities, private space and a customized service in these spectacular holiday homes.
1. VILLA SAPI (6 Bedrooms) ~ Location: Lombok - Indonesia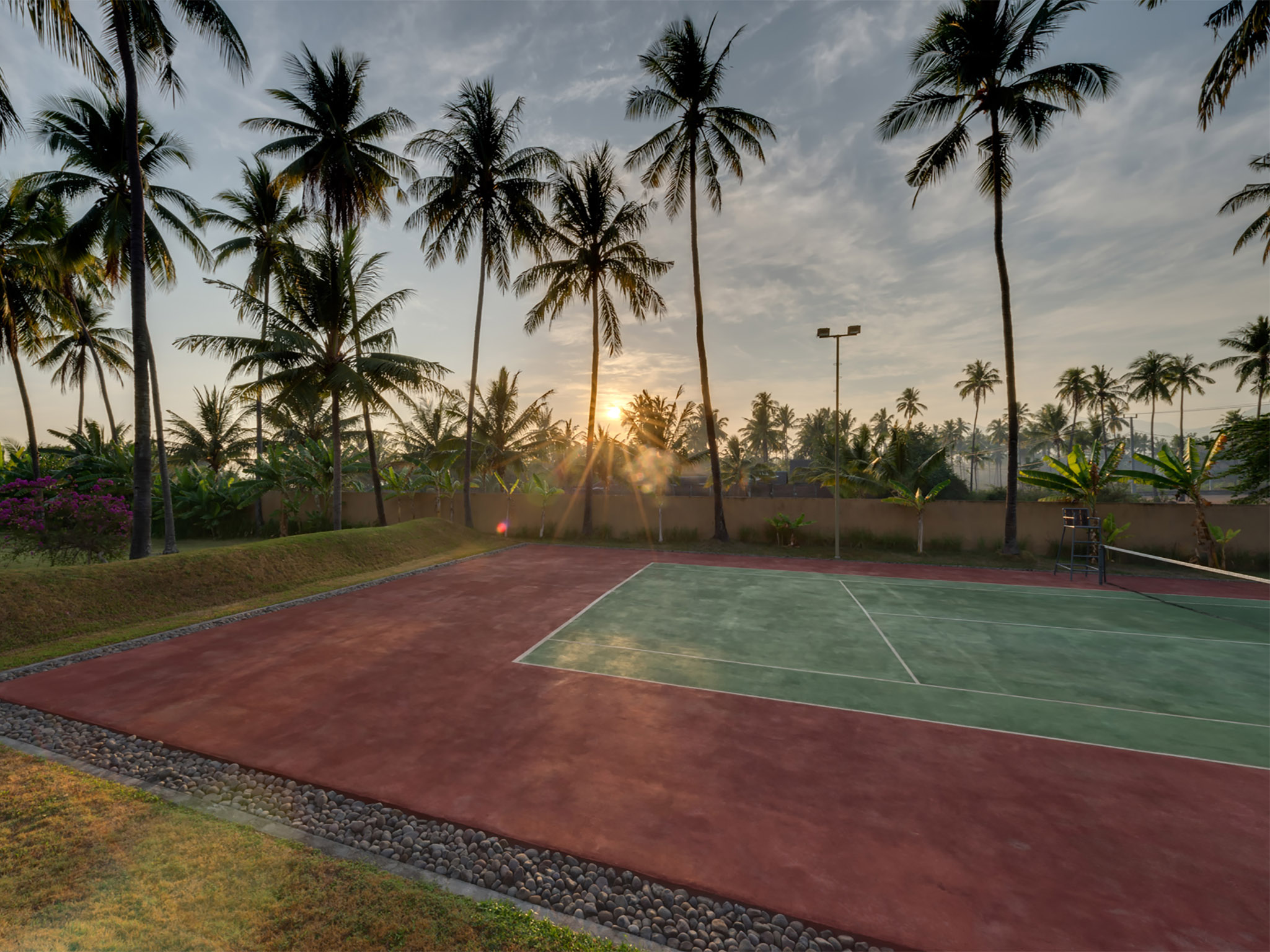 Five-bedroom Villa Sapi is a masterpiece of design on the peaceful island of Lombok. Bordered by the almost deserted Sira Beach against a backdrop of soothing seas, soaring peaks and sensational sunsets, it presents funky architecture, three swimming pools plus a children's pool, a stand-alone two-bedroom guesthouse, a tennis court, exemplary service and gourmet cuisine.
2. VILLA WAIMARIE (6 Bedrooms) ~ Location: Lipa Noi, Koh Samui - Thailand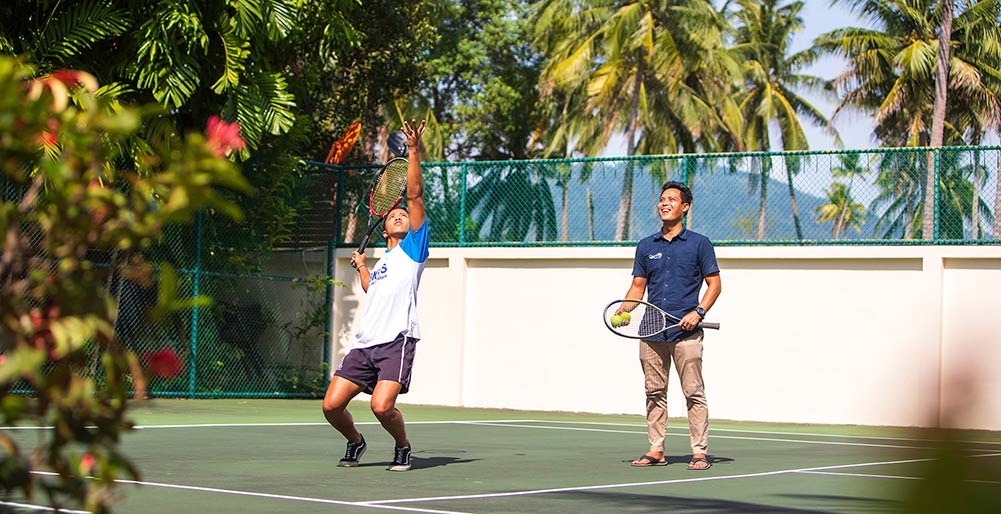 Waimarie is Maori for "peaceful water", and the name is entirely apt for this villa where, for most of the year the sea is flat as glass and as warm as a mother's hug. This is Lipa Noi Beach, and when you stay at Villa Waimarie you will have it almost to yourself.
3. ARSANA ESTATE (5 Bedrooms) ~ Location: Tabanan, Bali - Indonesia
The Arsana is located 11km from Tanah Lot sea temple, in the sleepy village of Tohjiwa Nyambu in the Tabanan Regency. This beautiful rural area of rice fields and jungle-clad river valleys, is a nature lovers' paradise. The enchanting village of Tohjiwa Nyambu is a stunning example of a traditional Balinese community, and is regarded as one of the prettiest villages on the island
4. VILLA RANAWARA (7 Bedrooms) ~ Location: Tangalle - Sri Lanka
Built on a sprawling 23 acre estate, Villa Ranawara allows its guests to enjoy all luxuries of the modern world while relishing the peace and quiet of a private beach. This stunning south-facing beachfront villa is tastefully furnished in understated colors for maximum impact. Five bedrooms spread out on two levels, with each offering unobstructed views of the gardens, ocean and beyond.
5. VILLA PADMA (4 Bedrooms) ~ Location: Cape Yamu, Phuket - Thailand
Experience paradise at Villa Padma. Settled seafront on the east side of Phuket, guests will be entranced by the display of colors from the lush greenery of the mangrove forest to a picturesque evening sunset. Villa Padma features four extravagantly sized bedrooms positioned privately amongst unique living areas to enjoy and share with friends and family. Beautifully hand-carved traditional Thai friezes and sculptures, as well as more contemporary artwork, adorn the spacious villa amidst well-appointed furnishings.
6. SUNGAI TINGGI BEACH VILLA (6 Bedrooms) ~ Location: Location: Canggu, Bali - Indonesia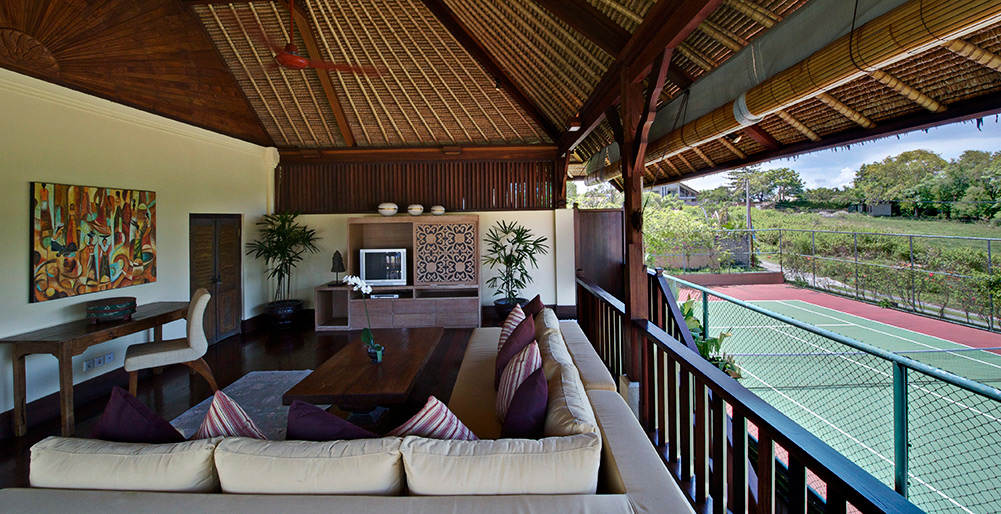 Properties like Sungai Tinggi Beach Villa are few and far between. This enchanting, traditionally inspired family home is a travel destination in itself, set within a vast estate that boasts over 100 metres of absolute beach frontage looking onto one of south-west Bali's renowned surf breaks.
7. VILLA RIVA (7 Bedrooms) ~ Location: Bang Po, Koh Samui - Thailand
Exquisite, expansive and unique, Villa Riva occupies a hidden headland on Koh Samui's unspoilt northern shore with stunning views from its forested cliffside location and flowering gardens gently sloping down to a secluded private cove and sandy beach.
8. ARNALAYA BEACH HOUSE (5 Bedrooms) ~ Location: Canggu, Bali - Indonesia
Arnalaya Beach House looks down over beautiful, unspoiled Nelayan Beach, a strip of fisherman's huts, colourful fishing boats and a sacred temple, at the end of one of Canggu's most exclusive roads. Beach bums will adore the location, which offers everything from beers on the sands served from a coolbox, to groovy sunset sessions at the uber chilled Old's Mans beach bar.
9. BAN SAIREE (7+2 Bedrooms) ~ Location: Laem Sor, Koh Samui - Thailand
Located on the south side of Koh Samui, the luxurious and rustic Ayutthaya-style Ban Sairee is home to nine bedrooms and 3 acres of private beachfront land. Sprawled across two antique-furnished teakwood pavilions which house seven bedrooms, you'll also find two separate rice barns that have been converted into bedroom pavilions, along with the large beachside swimming pool, a private tennis court and tons of space for little ones to run around.
Designed for families, with a contemporary take on traditional Bali-style living, the villa offers multiple living areas and spacious pavilions for each of the six bedroom suites spread around the extensive 6,500sqm grounds. Facilities include a 21-metre swimming pool, media room, and — in an adjacent area designated for sports — an air-conditioned gym, floodlit tennis court, mini football pitch, and trampoline.