South East Asia will blow you away with its unique culture, incredible delicious food and amazing sightseeing across different countries. It is really another world you will step into. Once in a while, you need that break vacation that will make you refresh your body and mind. Holiday fitness retreat is getting more and more popular, and there is a reason for that: It's awesome! Reboot yourself with a health and fitness-focused getaway.
Whatever sports you are into, you can find your true paradise work out in a heaven like atmosphere. Some of you might not know, but many villas provide you with the best gym and equipment you can ask for. Imagine waking up in front of a glazing sunrise, work out at a 5 star gym, eat fresh food and finish off by lying down in your infinity pool! It is now possible to spend an unbelievable holiday in your luxury villa.
Have a look at our top 10 luxury villas to get started with your fitness holiday.
1. VILLA ANALAYA (6 Bedrooms) ~ Location: Kamala, Phuket - Thailand
Phuket is a world famous destination for all travelers who would like to find peace and reboot their mind. Villa Analaya is set within the exclusive Laemson Estate on Phuket's most enviable location, the Millionaire's Mile, its true luxury as its core. An excellent villa for privacy as you can enjoy your own secluded beach. It is equipped with a great gym with the most outstanding view. You can practice water sports (kayak), trampoline, yoga and there is one tennis court within the Estate. To complete this, the luxurious 6 bedrooms can make your fitness retreat even more comfortable.
✈ For more Information & Booking: Villa Analaya
Take a deep breath and explore the panoramic view of this incredible villa in Koh Samui, the villa simply had to be called 180. This stunning 5 bedrooms villa offers the best equipment you can find in a gym – a power station for lat pull downs, rowing, Olympic barbell, free weights, TRX suspension training straps, gym balls, punch bag and gloves. The 60 sqm infinity edge pool is perfect to refresh and unwind after a hard day of work out. Your guests will be pleased to have an American pool table, a 55" 3D smart TV offering 500 channels. This 5 bedrooms villa makes it perfect for your fitness and wellness program holiday.
✈ For more Information & Booking: 180 Samui
3. VILLA BAYUH SABBHA (5 Bedrooms) ~ Location: Uluwatu, Bali - Indonesia
Live on the edge with this picture perfect designed villa, merge with its dramatic coastal setting. This superb luxurious 5 bedrooms villa employs a mix of limestone, teakwood and alang-alang tchatch. Waking up in Villa Bayuh Sabbha is like nowhere else. You can actually catch the intrepid surfers riding the waves of Bingin beach; have a jog alongside the paradise seaside, before heading to the air-conditioning gym or a game on the private tennis court. Reboot your body and mind with this fantastic luxury villa.
✈ For more Information & Booking: Villa Bayuh Sabbha
4. MALAIWANA VILLA M (5 Bedrooms) ~ Location: Nai Thon, Phuket - Thailand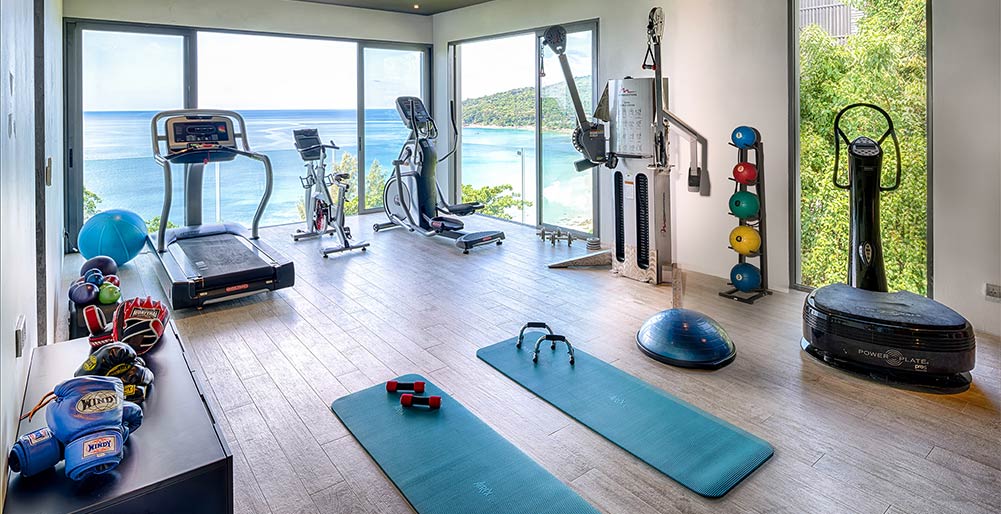 Experience the sunset you have never seen before. Villa M is an ultra-luxury villa with a vibrant modern twist on traditional Thai architecture. Living in Villa M will make you the only person in the world. Make full use of the villa's facilities to rejuvenate your body. The private gym looks out over the ocean and is equipped with a wide range of equipment, exercise mats, fit balls, free weights, a punch bag and even a pool table. This holiday home will make you and your guests feeling like a new "you".
✈ For more Information & Booking: Malaiwana Villa M
5. VILLA BAYU GITA (6 Bedrooms) ~ Location: Ketewel, Bali - Indonesia
Bali is world's famous for its secluded beach and tranquility. With Villa Bayu Gita, create a magical and memorable holiday experience with your family. This impeccable holiday villa has everything you need to make your stay fantastic. This 6 bedrooms home is spacious with excellent facilities for your loved ones – a private cinema, gym, a game room equipped with Wii and Xbox and three swimming pools. Spoil yourself to this venue and you will never want to leave Bali.
✈ For more Information & Booking: Villa Bayu Gita
6. VILLA AKATSUKI (5 Bedrooms) ~ Location: Lipa Noi, Koh Samui - Thailand
This luxurious beachfront villa is ideal for a tranquil retreat. Located in the quiet area of Koh Samui, experience living in a modern contemporary vacation home. With a mix of Japanese/Thai furniture and decorations, Villa Akatsuki boasts a choice a five unique suites. This villa lets you enjoy both indoor (gym and ping pong table) and outdoor activities, like kayak and beach volley. After a hard work out, step into the in-residence A-Spa for a complete relaxation and pampering session, including a dip into the cooling plunge indoor pool.
✈ For more Information & Booking: Villa Akatsuki
7. VILLA ZAVIER (8 Bedrooms) ~ Location: Surin, Phuket - Thailand
Explore the view of the breath-taking blue waters of the Andaman Sea with this magnificent 8 bedrooms holiday villa. Villa Zavier is set high up in the island's most sought-after hillside location and has been designed to offer you the ultimate highlife for your stay. An endless choice of facilities will make your holiday extraordinary. Imagine having a bowling alley, pool table, a golf driving range, two gymnasiums, a home theater and a 42 meter freshwater infinity pool all in one place… Dreams come true with Villa Zavier! This villa has it all to make your fitness holiday retreat a vacation to remember.
✈ For more Information & Booking: Villa Zavier
8. KABA KABA ESTATE (8 Bedrooms) ~ Location: Tabanan, Bali - Indonesia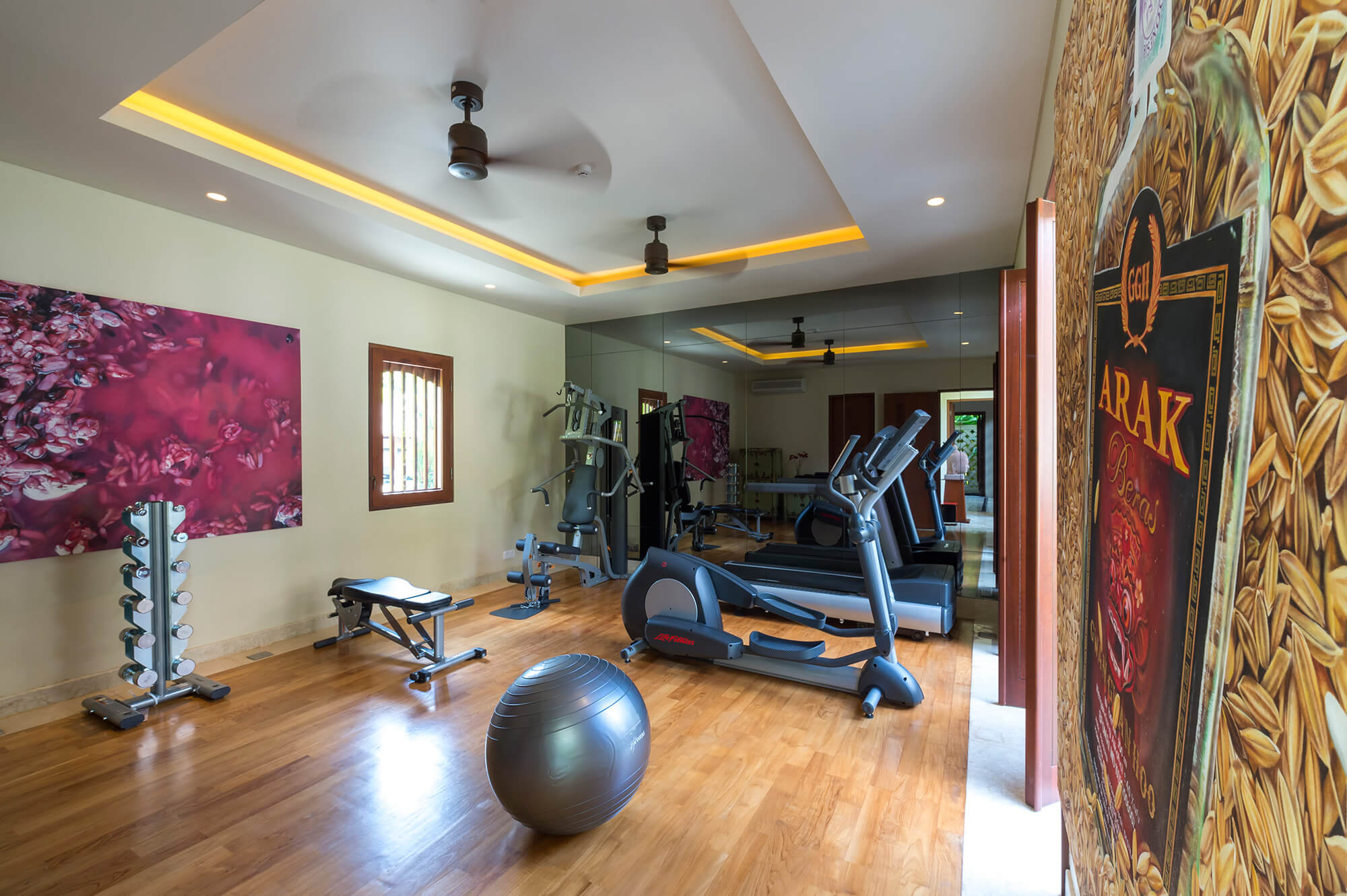 Built on royal land on the edge of Kaba Kaba village in Bali's Tabanan regency, this 8 bedrooms luxury villa is set to impress your guests with its stunning and distinctive interior. This venue is the perfect choice for large family gatherings and special events. The facilities including four pools, a tennis court, a Moroccan themed home theater, games room, spa and a gym, makes Kaba Kaba Estate Bali's most exclusive villa. The personalized service will make you even more comfortable and meet all your expectations, simply a piece of heaven.
✈ For more Information & Booking: Kaba Kaba Estate
9. VILLA ANAVAYA (6 Bedrooms) ~ Location: Choeng Mon, Koh Samui - Thailand
This is one of the most impressive luxury vacation homes in Koh Samui. Step into Villa Anavaya and you will feel like touching the sky with a 360-degree panoramic view overlooking the crystal blue waters of the Gulf of Thailand. It features an incredible saltwater infinity pool, six en-suite bedrooms and outstanding facilities to create the impeccable holiday. Vacation is meant to be relaxed, but also to stay fit and healthy. The in-villa fitness room boasts a treadmill, bike and free weights, whilst the estate offers a tennis court. What a better way to finish your day by enjoying a movie in your private cinema with projector and 3D glasses.
✈ For more Information & Booking: Villa Anavaya
10. VILLA SALINA (6 Bedrooms) ~ Location: Mirissa, South Coast - Sri Lanka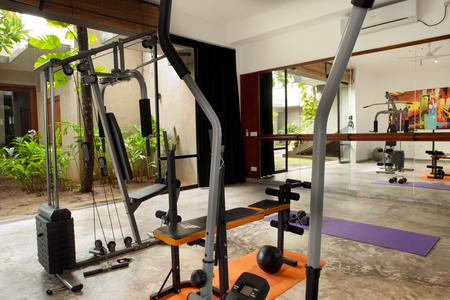 Sri Lanka is the newest destination for travelers looking for a mix of peace, relaxation and privacy. Villa Salina is an excellent beachfront luxury villa with full modern facilities, chef, on-site manager, and house staff. Perfect for families and friends traveling in large groups, this venue offers quality service and superb facilities. It boasts a gym, a cinema, four separate sitting areas and a private pool located on the first floor. Villa Salina stands tall, in a three-storey structure overlooking the remarkable Indian Ocean on the shores of Sri Lanka.
✈ For more Information & Booking: Villa Salina