When people think about Asia, they usually think about food, culture and history. Asia has now changed and become a world-class destination for exclusive travelers who are looking for freedom and peace. The continent itself is already a wonderful place to visit. Designers and architects have now step on the land and made it even more attractive. Villas define the word "Luxury". It is in our nature to always desire that little plus.
Too expensive to rent a luxury villa? Think again… It is a fact that holidaymakers are opting for a luxury villa rather than a simple hotel. And when you step inside your luxury villa rental, you'll understand the reason. Villas offer things that hotel can't provide, like privacy, the enormous amount of space, the lovely and professional staff always at your service, and much more.
So are you one of the many explorers looking for inspiring & instagrammable holidays?
1. VILLA VEDAS (5 Bedrooms) ~ Location: Bali - Indonesia
You will just fall in love with this spectacular villa in the southwest coast of Bali. Located just 1 kilometer north of the world famous Tanah Lot Temple, this gorgeous villa features a 45 meters of absolute private and beautiful beachfront. It offers a panoramic view of the Indian Ocean to the west, ancient rice paddies to the south and grazing pasture to the north. This 5 bedrooms villa is perfect for family reunion, retreats or organize a stunning wedding.
2. THE AQUILA (7 Bedrooms) ~ Location: Phuket - Thailand
Phuket is a world class destination for its beach holiday. It can be crowded in high season, but The Aquila Villa will offer you peace and tranquility. The view is yours. Situated on its own private cove, this luxury villa provides a spa, a gym and a 30 meters infinity pool. For those who would like to relax, there is a bar and a pool table that extends to a private movie theatre with its 70 inch flat screen display. With its 7 bedrooms, this holiday home is ideal for corporate events and retreats.
3. LIME VILLA SPICE (5 Bedrooms) ~ Location: Koh Samui - Thailand
The island of Koh Samui is one of the most favorite places for holiday in the world. This stylish and luxurious holiday villa is the most impressive private vacation, with its stunning hillside location overlooking the island's dramatic sunset coast. It features a 5 comfortable, spacious bedrooms and a generous open-plan living space. The infinity pool and the incredible contemporary design will make you, your family and friends, on top of the world.
4. THE COLLECTOR'S VILLA AT INIALA (3 Bedrooms) ~ Location: Phuket - Thailand
One of the most amazing things about Phuket, is that you can find a villa for every taste. But this one is truly special. Introducing The Collector's Villa at Iniala, a contemporary interpretation of a classic Thai house, situated on the golden sands of Natai Beach with wonderful sunset views over the Andaman Sea. Designed by four leading global designers, you will have a show for your eyes; a unique and original design you haven't seen before. This beach villa also features a private home cinema and a spa.
5. VILLA AMARAPURA (7 Bedrooms) ~ Location: Phuket - Thailand
Take a breather and stay in this luxury holiday villa in Cape Yamu, Phuket. Overlooking the Andaman Sea, Villa Amarapura is a 7 bedrooms contemporary villa vision, makes it the perfect place for a group holiday or a special wedding. Five members of staff will be at your service for all your requests, making your trip convenient and relaxed. This villa is for the sport lovers, it features 2 incredible infinity pools, a pool table, a basketball court, a high-tech golf simulation, where you can practice your swing on the villa's outdoor putting green. After a hard day, relax yourself in the private cinema or eat some fresh meals by the poolside sala.
6. WALATTA HOUSE (3 Bedrooms) ~ Location: Tangalle - Sri Lanka
Sri Lanka is the newest destination for a peaceful holiday. Step into this stunning 3 bedrooms eco designed villa set on a hill side overlooking the Indian Ocean, and find yourself lost into this jungle paradise. This is the most unique villa on Sri Lanla's South Coast, featuring an architectural construction combined with nature itself. The hillside location offers the perfect sea view. Just relax and watch the reflection of the coconut trees on the lovely swimming pool, sipping on the delicious freshly made cocktails.
7. 180 SAMUI (5 Bedrooms) ~ Location: Koh Samui - Thailand
This breathtaking 5 bedrooms luxury villa, sitting on a hilltop with the most amazing views, will make you fall in love with Koh Samui. Villa 180 is designed to perfection, from the deluxe interior to the infinity pool, experience the modern tropical living. Located in one of the best spot on Koh Samui, beaches and the must see attractions are minutes away by driving. Start your day with a dip into this 60 sqm infinity edge pool, purified with mineral rich Himalayan rock salts crystals that are kind to your eyes, hair and skin. Get your camera ready to catch the most beautiful sunset you will ever see.
8. THE BOAT HOUSE (4 Bedrooms) ~ Location: Dikwella - Sri Lanka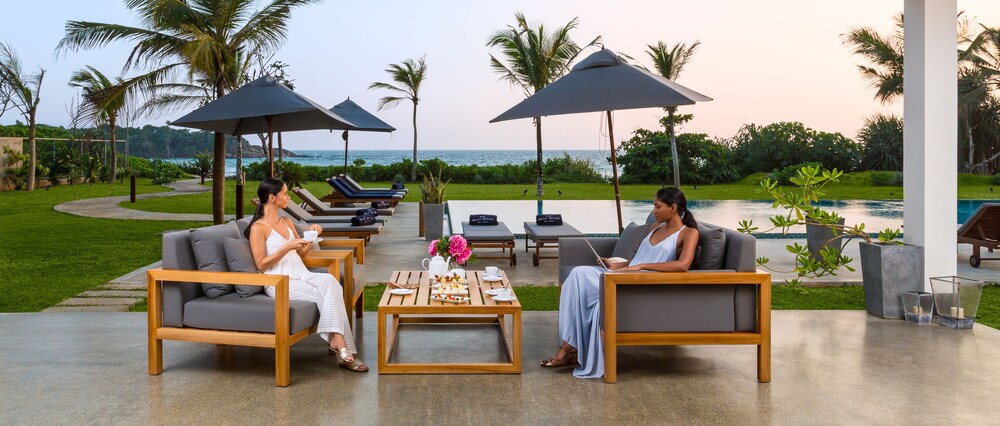 Designed by Fiona Miles, this 4 bedrooms luxury villa is the perfect cocktail of contemporary and traditional style. Enjoy the direct access to the magnificent powder-soft beach that envelopes the turquoise waters of the stunning Dikwella Bay. All 4 bedrooms have en suite bathrooms, giving privacy to your family and friends. Sit down and enjoy the freshly made Sri Lankan cuisine cooked by our trained chef.
9. VILLA ANAVAYA (6 Bedrooms) ~ Location: Koh Samui - Thailand
Feel on top of the world with this jaw-dropping luxurious villa on Koh Samui. Heaven does exist and it is called Villa Anavaya. This amazing 6 bedrooms villa will make you and your loved ones feel alive again. It features a saltwater infinity pool, an outdoor sofa lounge, a private cinema with 3D glasses, a fitness room and more. Make your holiday extraordinary by renting this piece of paradise. The villa's professional staff and chef will make your stay even more comfortable by assisting you with all your requests; just live the moment and experience the true beauty of Koh Samui.
10. 1880 BALI (5 Bedrooms) ~ Location: Bali - Indonesia

Originally built in 1880, this property is a restored plantation house from Kalimantan and has a certain historical and artistic prestige. This is the perfect villa rental for your family reunion or get together holiday, featuring 4 king size bedrooms and an 8 bedded children's bunk room. This luxury villa has been designed and furnished with attention to details, using the highest quality products. Feel yourself at home and taste the most amazing Indonesian meals cooked by our private chef. Or fancy an evening out? A large choices of excellent restaurants and small cafes are minutes away from your peaceful luxury villa.